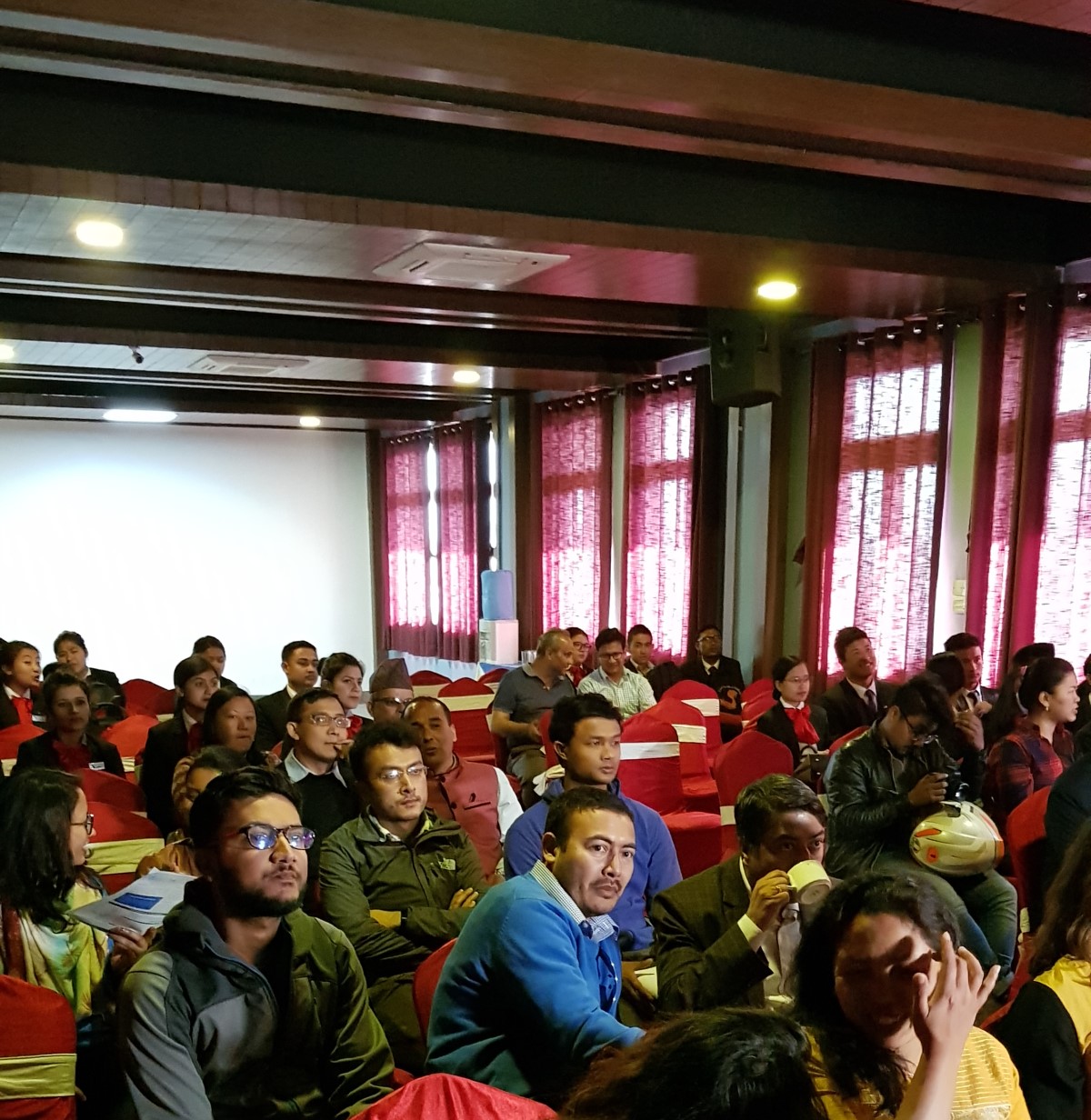 Most people associate Nepal with Himalaya, Yak, Temples and Monks. And that's OK – but that was 20+ years ago. Kathmandu, the capital city is a 6 to 8 Million people mega city. The Universities produce entrepreneurs and scientists and the management schools develop top candidates. And the Entrepreneurial Wave Nepal is on the rise.
We have been invited to Kathmandu Nepal, from March 4 to 6, 2018 to learn about Entrepreneurship and Innovation in Nepal and share entrepreneurs experiences from around the world. The Society3 and World Innovations Forum Ambassador, Khem Lakai (Photo) made this three very impressive days for us.  Marita and I learned a lot about this extremely friendly culture which has to offer a lot more than Mountains and tracks – even though it is a breath taking experience being so close to the tallest mountains in the world.
Entrepreneurial Wave Nepal
We saw some very interesting startups in all kinds of fields from Medicine to technology and data management. And prior to the event that was organized by our Ambassador For Nepal, Khem Lakai we had a chance to meet leaders from the university, government, and industry on the campus of the Global Management Academy in Kathmandu.
At the Event "Entrepreneurial Wave Nepal" we talked about the need to connect entrepreneurs from all countries to learn from each other, inspire each other and possibly create business partnerships across the globe.
In many countries, including Nepal, there is a huge interest in connecting with the rest of the world to learn what is needed, what problems need to be solved and how young entrepreneurs can share experiences from technology issues to business model development or fundraising challenges.
During the Entrepreneurial Wave Nepal, Marita Schultze addressed several points that are continuously discussed with female entrepreneurs such as the work/family balance, the perceived differences and why female entrepreneurs should not adopt to a male behavior but instead understand their advantages as a woman. "No need to copy a male entrepreneur's behavior – put your uniqueness in the foreground instead".
Female entrepreneurship is not just something Nepal will do but already has several years experience of engaged female entrepreneurs.
The podiums discussion only emphasized what we already recognized: Nepal is on the verge to become another highly agile country in Asia that has to be watched and taken serious as one of the most potential innovation countries in the world. Clearly Nepal will be represented at the upcoming World innovations Forum in Switzerland and added to the list of the highly innovation countries in the world.
And last but not least, Mount Everest is an absolute must see, letting all innovations behind for a moment and meditate about the wonders of that world.
Flying along side the Himalaya Mountain Ridge having Mount Everest straight in front of us.
In the next few weeks we will introduce some of the Nepali Entrepreneurs and what they do. Interestingly enough some actually come already from other countries to start their opportunity here in Nepal. One of them is Tirza Theunissen. but we will talk about her and her amazing project in a dedicated post.
https://wiforum.org/wp-content/uploads/Entrepreneurs-Event-Nepal.jpg
1232
1200
Axel Schultze
https://wiforum.org/wp-content/uploads/wiforum-logo-main-grey-300X300-1.jpg
Axel Schultze
2018-03-08 12:04:00
2018-03-08 12:06:38
Do you know Nepal? No you don't. Entrepreneurial Wave Nepal