Back to production after 3 weeks of quarantine
As part of the WIForum Initiative "Innovate Fighting Pandemics" we discussed ourselves what would we do if we ran a production company with thousands of employees and are forced to shut down. What would we do if we have no tools and no resources? We started to calculate:
The incubation time is approximately 2, sometimes 3 weeks. We are home for three weeks and "experience" for ourselves, that we feel safe and had zero contact to anybody. We do not show any symptoms and are most likely not infected. So we and friends of ours with the same pattern: 3 weeks in quarantine and no symptoms could meet. If we had a tester we could do a quick test and have a party – totally safe.
How about elevating that thought to a production company.
Employees who have bin in quarantine for three weeks with no symptoms could go back to work, assuming they don't use public transportation, don't stop anywhere and commute  in "tunnel mode", very much like their VPN to get safely into the network of their office.
GROUP A
A first group of let's say 1/3 of the employees could be carefully selected in a way that production could be fired up.
They start 3 weeks after breakout assuming they were in quarantine and have no symptoms.
Ideally each employee gets tested as they re-enter the factory/offices
Two weeks later they pause again and group B starts. The first SHIFT.
GROUP B
Like starts after after Group A pauses and another group, one third of the company continues for two week. The company has at least now a 1/3 production power under in continuation mode. Also Group B pauses after 2 weeks – to make sure that all employees stay disciplined and be safe. The second big shift
GROUP C+A
The last group and the third 1/3 of the company takes over the shift of Group B. By now Group C was the first three weeks plus another  4 weeks in Quarantine. So we can assume they are really ok. Therefor Group A joines back the team and now 2/3 of the company are back in production mode. They work also for 2 weeks. Another Megashift.
GROUP A+B+C
Nine weeks later everybody is back in business. Depending on the discipline of the society and the law enforcement of the government, the whole nation may still be extremely cautious, but have their business life back and with it a larger part back in a regular situation, economy is back and supplies are relatively back depending on foreign material.
The Megashift MOdel is nothing more than huge – long single shifts. Instead of hours it's abut weeks.
As countries have rules and regulations how to enforce the quarantine – this model needs to be synched up with the government of course.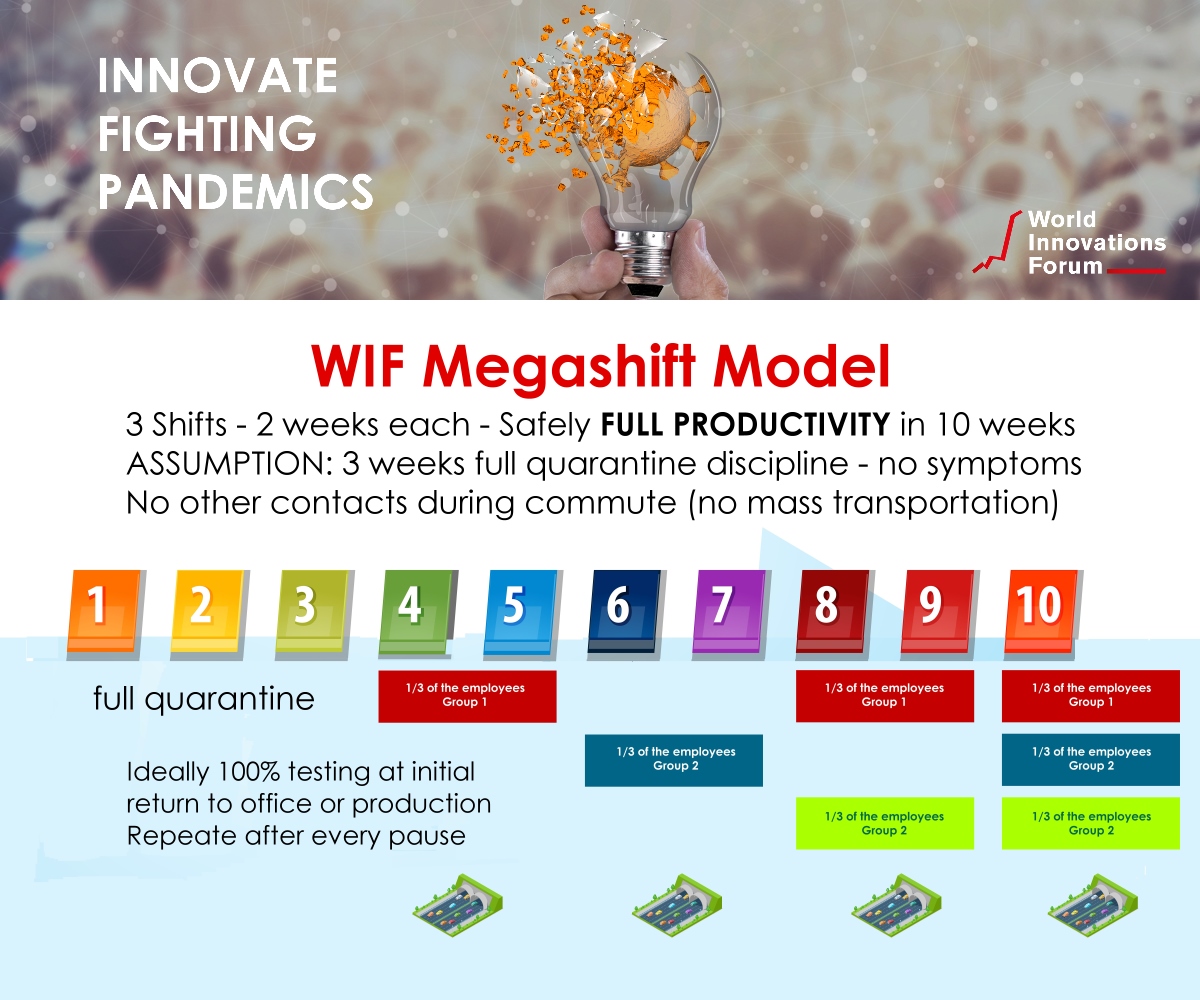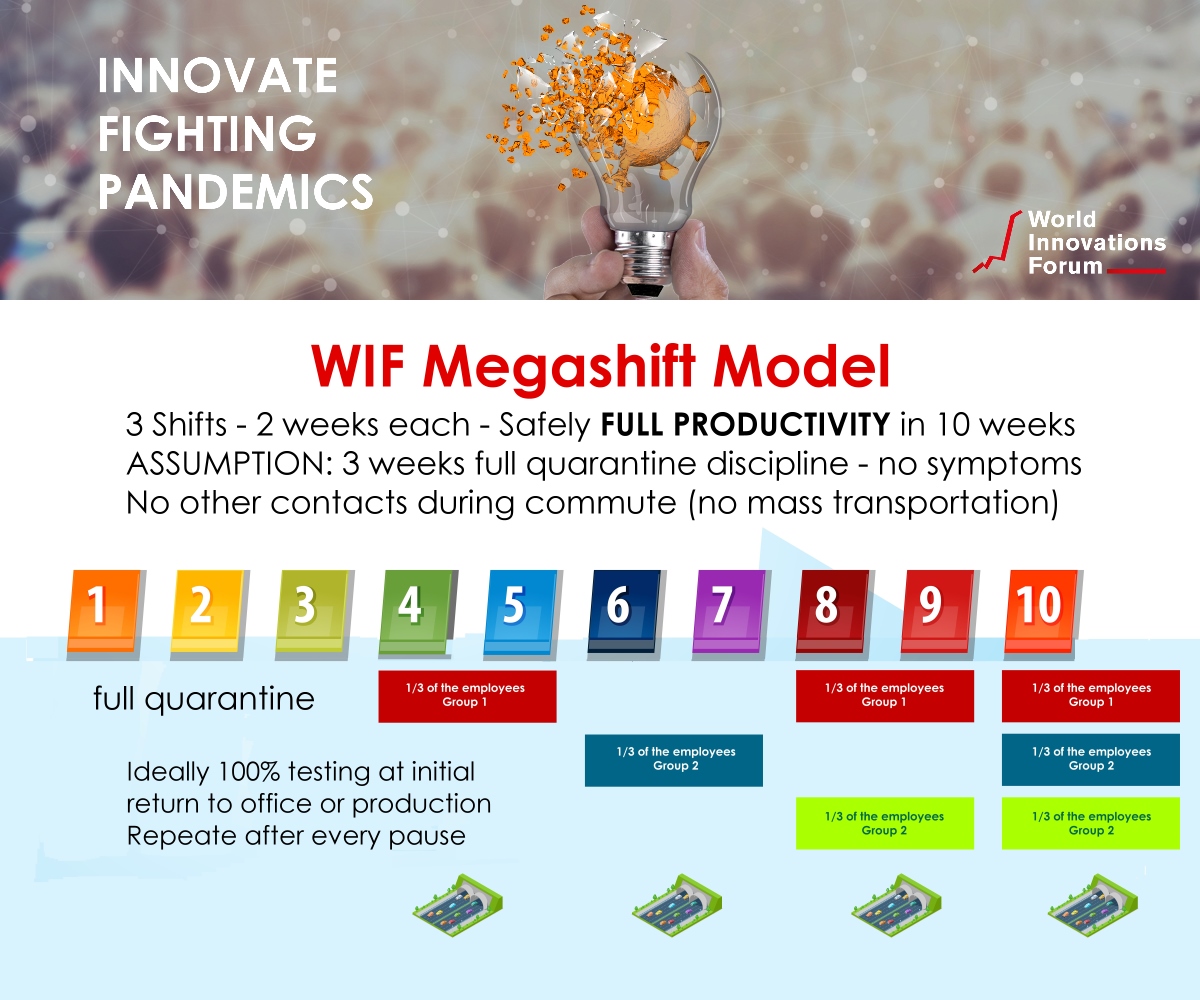 Stay safe – everybody
Our thoughts are with the thousands of people who passed away and with their relatives.
Innovate Fighting Pandemics
If you have any ideas, know tools, best practices or want to develop something, join us
Axel Schultze
Chairman
https://wiforum.org/wp-content/uploads/Inno-Fighting-Pandemics-1.jpg
1000
1200
Axel Schultze
https://wiforum.org/wp-content/uploads/wiforum-logo-main-grey-300X300-1.jpg
Axel Schultze
2020-04-06 08:53:40
2020-04-06 08:53:40
Back to production after 3 weeks of quarantine