Genuine Innovation versus Improvement
Terms like incremental innovation, gradual innovation, or architectural innovation have been coined and used to look like being innovative. Turns out, using those terms is the worst decision one can make. Companies need to be actively improving their existing products and services. AND in today's time and age, companies need to decide if they want to engage in innovation. But one is as different from the other as apples and oranges (Äpfel und Birnen).
Let me explain the most significant differences between genuine innovation (real innovation) and improvements:
How genuine innovation began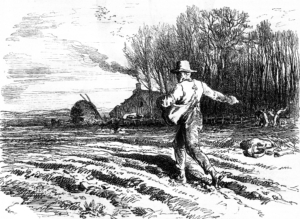 Around 12,000 years ago, we not only improved how we sharpened and used stones or threw wood formed into a spear but also made a breakthrough in survival techniques. Homo Sapiens began to farm. For 300,000 years, we were hunters and gatherers. But the food was almost abandoned once we understood how corn grows and how we could seed and water the seeds. Thanks to the innovation of farming, there was more corn and wheat than the people who planted it could consume. At that time, some people invented plows to farm better. Others focused on building more robust tents and huts to store the harvest. They traded their work for the corn others grew. The invention of farming allowed us to specialize. The most massive elevation in how humans did things.
Still, today, a genuine innovation elevates how people do things to a degree far above and beyond general improvement. Every innovation sparks new opportunities, jobs, and on top new innovations. It allowed us to overcome limitations like lifting more than our body could stem. Dive longer than any human could before – even reach out into the Universe. Every genuine innovation is a solution or product created from scratch in all its aspects. A new product with new and never seen before functionality and today, most likely a new business model will quickly accelerate the company to a market leader. Bringing such a product to market, teams usually also use new ways to sell it, new ways to market it and create a new customer experience. With such a new solution, customers experience a new, easier, faster, or safer way to do things.
After a few years, genuine innovation is typically far more profitable than any comparable solution. It has a significant competitive advantage and attracts top talents, new customers, and even the corresponding capital market. Apple, Google, Samsung, and countless other disruptors are part of the most profitable company list. At Apple, developing a new computer, then iTunes, then the iPhone means heavy lifting. But profitability leads to new and equally profitable products and so forth. We see a similar pattern at "Musk Enterprises," where it's less prominent but equally diverse with Tesla, SpaceX, StarLink, etc. It isn't just the product genius – but also the business genius to innovate continuously.
Examples of Genuine Innovation
* A rocket may be considered as just another aircraft. But a rocket like a Saturn V can go far higher and faster than any other air vehicle.
* Uber may be seen as just another Taxi. But with an Uber, you know the cost of the ride before you get in, and the driver cannot cheat. You don't need to pay cash, and the driver does not have the theft risk.
* A Tesla can be seen as just another automobile. But the electric motor combined with high-performance batteries is more environmentally friendly, uses renewable energy, and can be charged wherever an electric power grid is, not restricted to old town centers. It has an entirely new digital experience and can be purchased online without an overly complicated selection of option packages.
* A fully digital bank like N26 is built from the ground up for the best digital experience. Users can make all transactions themselves, anytime, anywhere, and in any transaction. Transparent costs and easy to track. It elevates the user experience by order of magnitude.
Improvement Comparison
* A faster, more comfortable airplane may be a nice improvement, but it cannot reach other planets.
* A better Taxi system would still have the massive overhead of a local taxi organization, still dependent on the drivers' orientation skills. It must still be paid with standard payment systems, different in most countries. And altogether is still not as easy and trustworthy.
* The next car model may look nicer, is more comfortable, and may have more power. But it still has a combustion engine and a proprietary car computer system. The complex way of selecting and buying a new car also needs to be considered. Selecting the features from conflicting packages impedes the process.
* E-Banking in a conventional bank is still just a conversion of their complex standard processes. The old processes requiring manual reviews have usually not been optimized and are not even part of their e-banking.
In all the examples, improvement is necessary – or complete disruption.
Those examples give only a rather superficial insight into those differences. Under the hood, it is even worse. Mergers with brute force IT integration have made the product in financial services companies far more complicated than easier. Those companies often still today think it's their human experts that make the difference. Of course, those experts are also needed in the future. But the real difference is a hyper-fast and super-easy transaction system for billions of people. Similarly, in the energy sector. Most oil and gas companies need to change towards renewable energy. And most follow what already exists: Solar, Wind, and Water. Disruption would be focusing for instance on the earth's core. Our planet's geothermal energy reservoir is good for at least a billion years. It can constantly deliver millions of petawatt of energy. It is independent from day and night or cloudy or sunny. It is independent of wind and independent of the necessary gravitational force of water turbines. Of course, it is not easy, but innovation is never easy. That is the reason why genuine innovation is always profitable and pseudo innovation is always under high pressure from the competition, high pressure on profitability and there is always a country that can deliver cheaper.
Genuine Innovation versus Improvement
| | | |
| --- | --- | --- |
| | Genuine Innovation | Pseudo Innovation or genuine improvement |
| Team qualification | Diverse backgrounds with specific cognitive abilities | Dedicated innovators Experts (Tech, Bio, Chem…) |
| Timeline | 5+ years | Months/Years |
| Budget | Small but scaling | Higher budget, shorter terms |
| ROI | 7+ years | 1-2 Years |
| Impact | Market Leadership | Business as usual |
| Capital market | Increasing MarketCap | Declining MarketCap |
| Biz Transformation | High | None |
| Expanding markets | Possible and likely | Rather shrinking |
| Declining demand |  Can be compensated | Accelerates the degradation |
This tables tells a very important story: Engaging in innovation or remaining in improvement mode has significant financial and strategic implications. And the decision to go in one or the other direction, can only be made by CEOs and their board.
Making the distinction between genuine innovation and improvement is strategically important for the respective team that should either innovate or improve. A leadership position such as "we need to be more innovative and you, team, have to figure out how to do this", cannot lead to success.
Goals, processes, team composition, financing ways to go to market, and production flow are all fundamentally different between the two types of product development. As long as a company mixes both terms interchangeably, the result is worse than focusing only on improvements. But to stay relevant modern businesses need to do both: Continue to improve the products and services they have and with a different team to develop the next breakthrough innovation.
Genuine Innovation versus Improvement
GENUINE INNOVATION
At least we at BlueCallom consider Breakthrough innovation, groundbreaking innovation, disruptive innovation or radical innovation all the same thing. All of that is genuine innovation. And everything we do as a business, is to empower people to make genuine innovation a reality in very timely order – six to 9 months.
PSEUDO INNOVATION
At the same time, we consider the terms incremental innovation, gradual innovation, architectural innovation as pseudo innovation. It is misleading for innovation teams when they are tasked to make incremental innovation. Moreover, it is dramatically harming their career because when hired at another company, they can present nothing but improvements – which is a given in companies since the beginning of the industrial revolution.
I'd love to hear your opinion or experiences.
https://wiforum.org/wp-content/uploads/wiforum-logo-main-grey-300X300-1.jpg
0
0
Axel Schultze
https://wiforum.org/wp-content/uploads/wiforum-logo-main-grey-300X300-1.jpg
Axel Schultze
2022-10-06 17:54:15
2022-12-13 17:56:17
Genuine Innovation versus Improvement