KnockOut-19! Mother's Day May 10th, 2020

By Cafer Tosun, Alyssa King, Axel Schultze
May 10, 2020
On Mother's Day, May 10th, 2020, a total of 62 countries have made wearing a mask compulsory the one way or the other due to the corona virus. The total population of all the "mask" countries together stands at 5.67 billion people. This means we are well ahead with our initially targeted timetable. While the KnockOut 19 campaign supported generating awareness, it was more the necessity to contain the virus, which made the governments to impose wearing masks in public. And the insight that as long as there is no medicine or vaccination available to keep safe, wearing masks and keeping a distance are two effective measures to help contain the virus.
We have put together a list of all countries in which wearing a mask is recommended or made mandatory. And yet, there are still some countries missing in the list.
Please reach out to the World Innovations Forum, if you need support with convincing your government or with initiating a campaign in your country to wear a mask. We are more than happy to work with you to create the necessary awareness.
You can contact us at  innovate.fighting.pandemics@wiforum.org
Use Hashtag #kout19
Please use it on Facebook, Instagram, LinkedIn, Twitter, email, WhatsApp, messenger – anywhere.
Thank you for your support and a happy Mother's Day.
List of countries making wearing masks compulsory one way or the other: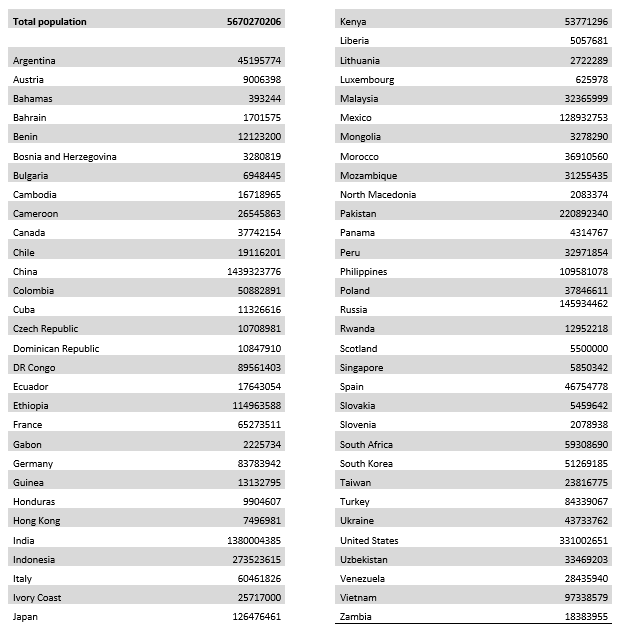 Masks and terminology
While simply covering your mouth and nose will work to reduce the probability of becoming infected. There are various types of masks, which you might be interested to know about. Masks are available in various protection levels – called FFP with a number, i.e. FFP1, FFP2 or FFP3. FFP stands for filtering face piece. The numbering defines the various protection levels. The higher the number the higher the protection level. FFP3 has the highest level of protection. The equivalent in US for FFP2 masks are the N95, which is a comparable classification of air filtration. N95 means that it filters at least 95% of airborne particles. There are N99 and N100, where the number provides you with the efficiency of the mask, meaning the minimum percentage for filtering airborne particles.
Since there is global shortage for these types of masks and they should be primarily used by healthcare workers, you can use homemade masks too. That's why some countries are hesitant with asking the public to wear masks. They are afraid they'll run out of masks for their healthcare workers. To avoid that you can find below some links and suggestions for how to make masks at home. Or just use a scarf or bandana to cover your mouth and nose.
Instructions on how to make masks yourself – Do it yourself (DIY) masks:
https://smartairfilters.com/en/blog/best-diy-coronavirus-homemade-mask-material-covid/
https://www.instructables.com/id/DIY-Cloth-Face-Mask/
https://www.youtube.com/watch?v=iJWhZJZoAe4
https://www.youtube.com/watch?v=5IiT9cSD-Ec
https://www.youtube.com/watch?v=VUasSmReIVo
https://www.youtube.com/watch?v=iIuQMZ1Iw5M
https://smartairfilters.com/en/blog/best-diy-coronavirus-homemade-mask-material-covid/
https://www.instructables.com/id/DIY-Cloth-Face-Mask/
And many more instructions on YouTube!
=================================================================================
What the World Innovations Forum asks you is: be creative and let the world know about your ideas and best practices to fight the pandemic.
Find out more about the initiative at: http://wiforum.org/innovate-fighting-pandemics/
Start participating in the conversation and join one of our dedicated groups:
The World Innovation Forum provides you a platform to share, engage, accelerate the adoption and scale your innovation with its global network of innovative minds. Be part of the innovation acceleration to fight the pandemic.
Thank you!
The World Innovation Forum
PS: Do you want to be part of the team? It is a global initiative driven by volunteers around the world. It is a growing effort. We need more volunteers to work with us on the innovation acceleration initiative of the World Innovation Forum. If you are interested to support us with your time and network, please send us an email to innovate.fighting.pandemics@wiforum.org and include a few words about yourself and what you can contribute to the initiative.
https://wiforum.org/wp-content/uploads/Knockout-19_Website-1.jpg
470
1600
Alyssa King
https://wiforum.org/wp-content/uploads/wiforum-logo-main-grey-300X300-1.jpg
Alyssa King
2020-05-12 11:55:34
2020-05-12 11:55:34
KnockOut-19! Mother's Day May 10th, 2020