10 Things that Change with Neuro Innovation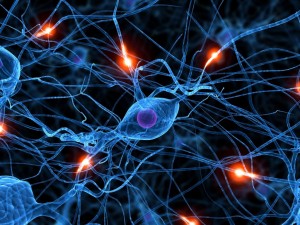 1598Neuro Innovation – How ideas get created
Neuroscience had the single biggest impact on our modern understanding of innovation, in particular Neuro Innovation. One key aspect is the realization that ideas don't come randomly and there are no "magic ideas out of the blue". The brain composes ideas from past experiences and those compositions represent the power and the limit of our creativity.
Linear vs. Lateral
Your innovative brain thinks lateral. Your logical brain thinks in linear processes. That's why almost all business tools are built in a linear manner – step by step.  But in recent years one business process has sneaked into our business life: INNOVATION. Yet, this creative process is still handled in a linear way: step by step. For instance "Empathize", "Design", "Ideation", "Prototyping", and "Testing".  To make it more flexible, iteration is part of the process but that is still between modules and still not lateral.
Every idea ever created
Knowing how the brain is actually composing, processing, and fine-tuning ideas, has a profound impact on any type of innovation management process. Today, we know that every idea ever created, was a composition of past experiences. Our brain cells or neuron cells can not create any new idea from scratch. We also know that brainstorming has never created a single disruptive business model. We know that disruptive innovation takes on average 6 weeks to create. It will not happen on any hackathon weekend.
Deeper insights are provided during the education programs of the BlueCallom Innovation Management Academy.
Let us now explore the 10 things that change with Neuro Innovation.
1) Lateral Thinking
The good news is that we do not need to train anybody with lateral thinking. It is an integral part of our brain's superpower. All we need to do is creating awareness of what exactly lateral thinking is and how it behaves. Simply speaking, instead of looking at things in a linear process (step by step | learn and repeat), we look at things in parallel and don't repeat or iterate until it works. When you drive a car you steer the car, look at the street, once in a while in the rear mirror, on the speedometer, hear music, keep an eye on the remaining fuel, look at the scenery – all at the same time. Your conscious, sub-conscious, and motoric minds, work all in parallel. When you watch movies, you follow the story, wonder if certain things are possible, manage emotions, listen to theatrical music, and more.  When you THINK – any thought – you do that in parallel. When you "create", meaning build and craft anything your brain works many tasks in parallel. Lateral thinking is a very fast back and forth of thoughts, verifications, and more.
Innovation is taking lateral thinking to perfection.
Attempts to make innovation, in particular ideation, a linear process is a perfect way to kill the outcome. The major episodes in the innovation process are linear and one builds on top of the other, but within the episodes, lateral thinking is the way to go. And one group of humans does it pretty well: startup-teams.
Creating a lateral thinking environment.
2) What should we innovate?
Instead of watching competitors – a far more effective way to innovate is to watch customers. The first question an innovation team should have an answer for is where and for whom they innovate. We know that disrupters could come from anywhere and can change the way an industry segment does business in just a very short period of time. But there is absolutely no magic involved. They simply found out what the respective audience has trouble with – whether they can articulate it or not. So why not do the same for your business? Moreover, you sit right in this market. The best way to find out is to conduct very specific research in your market. No questionnaire and no interview with countless questions. Just a well-guided casual conversation.
Creating leaders not followers
3) Innovation instead of improvement
instead of settling with improvements – focus exclusively on disruptive innovation. In our research, we discovered that the only difference between searching for a disruptive innovation versus settling with an improvement is the time and the way we interact with our brains. So there is no reason to accept an improvement if you can get to disruptive innovation. The first step is to get rid of brainstorming. While brainstorming was a great first step in leveraging the brain in the ideation process, it produced only very obvious ideas. And instead of hoping for a great idea that may strike you like a lightning bolt – our brain is able to get to amazingly disruptive ideas over a sequence of sessions that stimulates new and different searches. The final composition with a highly diverse team can be reached in 4 to 8 weeks of very specific exploration tasks.
Getting truly creative literally and laterally ;) 
4) Leveraging thousands of ideas
Instead of selecting one or only a few ideas from brainstorming – Neuro ideation produces thousands of ideas and idea pieces during a project. You will want to use them all – and you should. A complete disruptive innovation concept has never been just a single idea. Aggregating thousands of inputs including idea pieces, opinion, customer feedback, and research data can no longer be managed with colorful stickers and whiteboards.  You will need computer power to capture all the data, rate and rank them, sort and store them, and finally, analyze them. Looks like work but billion-dollar businesses do not come for free.
Creating full concepts not only ideas
5) In-market idea validation
Instead of random experimentation in a lab – validate the "idea-success-fit" in your market. There is no better validation than exploration sessions with future clients. The added value of having your audience not only help validate the idea but also help shape it to the real-world application is priceless. To this point, there was not wasted a single penny in prototyping, experimentation, or testing. And please do not fear that somebody can steal your idea. Only weak and obvious ideas can be stolen. Little improvements can easily be stolen, so keep them for yourself – but please do not call them innovation.
Not wasting time, nor money
6) Innovation comes with team diversity
Instead of working only with experts – assemble a highly diverse innovation dream team. Having more of the same experience is of no value in innovation. But having a greatly diverse team brings far better results than the best expert team in the world. Experience diversity is the new order in innovation. On top of all, involve your customers and business partners in the process.
Producing the best possible outcome
7) Market born products
Instead of building prototypes and testing them in labs, use a unique "market born" product design method.  A Minimum Viable Product (MVP) that shows only one feature is more important than a shiny but mediocre improvement. There is no lab that can compete with real user experiences. A lateral collaboration model with your customers and early adopters is bringing you more insights faster than any internal team ever can.
And still – no funding needed so far
8) Innovation financing
Current estimates show that 90% of innovation projects won't make it to get funding. And the more innovative and disruptive a concept is, the less likely the approval to go forward. This, theoretically insane behavior, stems from the way disruptive ideas get perceived. In particular, finance people are conservative thinkers. Therefore, at last, one finance person should be part of the innovation team. Collaboration with the finance department on a bi-weekly cycle is highly suggested. Also here, neuroscience is an important guide on how to involve the executive bench in innovation projects to prime their thinking with what you are doing. Keep in mind that the next billion-dollar product line will need maybe a 100 million and more investment over time. To get such a financial commitment, the innovation management system must provide an extraordinary set of data to be able to defend an innovative concept. The fifty most innovative businesses from the past 20 years consumed more than $500 Million in funding before they became profitable. And investors worked with the management team on a weekly or monthly basis.
CFOs need relevant financial data – and learn to be an investor
9) Innovation to market
Instead of conventional market introduction, leverage neuroscience to select perfectly matching early adopters for creating a successful path into global markets. Innovative products will NEVER be purchased by 75% of your customer before the first 5% of early adopters got very excited. Most industry segments fail to innovate even with extraordinary solutions because they never had to do this in the past 20+ years. When IBM decided to go with an innovative computer into the market, they created a completely autonomous company: the "red IBM" but still did not manage to really scale it.
What every startup does due to the lack of a customer base
10) Executive level reporting
Executives need to understand every process in an enterprise – no matter what. And the way this is done today is simply through data. The Deep Innovation Design process, when run with the corresponding software provides on average 25,000+ data points to analyze and feed an entire KPI framework. When moving from LINEAR to LATERAL thinking and corresponding methods, we gain an incomparable amount of data. The data ranges from real-time budget consumption along the way, various timelines such as Time-to-Innovate TTI, Time-to-Validation TTV, Time-to-Market TTM, and ROI data that may be even dynamic based on the progress. The data also deliver qualitative data such as Ideation-Network data measuring the degrees of ideation connections and ideation stacks as well as quantitative data like idea contribution volume, contributor network size, or idea validation levels and volume, and more.
Neuro innovation and lateral thinking are the two keys to profoundly different innovation data.
10 things that change with Neuro Innovation
All in all, some of the topics in Neuro Innovation have not even been part of the conventional innovation processes, so that means no change, only additional learning. In other words, we don't touch existing neuro pathways but help build new ones. Summarizing the new ones:
What should we innovate?
Innovation Financing
Innovation-to-market
Neuro Innovation is a key factor in ideation, idea validation, innovation financing, and innovation-to-market processes.
https://wiforum.org/wp-content/uploads/Brain-Synapse-Wallpaper-1024x768-300x225-1.jpg
225
300
Axel Schultze
https://wiforum.org/wp-content/uploads/wiforum-logo-main-grey-300X300-1.jpg
Axel Schultze
2020-12-11 17:46:50
2022-12-13 17:48:40
10 Things that Change with Neuro Innovation