Innovations Paradigm Workshops
From introduction to deep dive in innovative thinking
For innovation and R&D managers from any innovation focused company from scaleup to global enterprise. Startups and corporate innovation labs are in a race for more innovation, innovative solutions, innovative business models and innovative businesses.
The question remains: HOW DO YOU INNOVATE?
This workshop gives rare insights in the inner workings of how humans create ideas, and how we construct innovative products and business models that rock any competition. You learn how to develop truly bold ideas that go far beyond any regular idea and what can b done to realize such ideas. And finally, equally important the workshop is about getting those ideas into ultra highly competitive global markets. You will understand the whole complex of the innovations Paradigm and why is it paramount to get innovation done.
Public Half Day Workshop
AGENDA
Innovation strategy
Understanding how we 'create'
Innovative thinking
From innovation to disruption
Realization methodology
Hands on session – innovate
Innovation value creation
Leveraging WIF Innovation Canvases
Innovation ecosystem
TAKEAWAY
Understanding the complete life cycle of innovation
Guidance and methods for Innovative Thinking
The book "Innovations Paradigm"
5 innovation development canvases
A complete program outline to use innovation creation at work
Audience:  Entrepreneurs, executives, Managers
Investors, ecosystem Manager
Government representatives
Format: Workshop
Duration: 3 hours
Fees: $195 / person
UPCOMING PUBLIC WORKSHOPS
Sep 4, San Francisco, CA 03:00 pm
Oct 8, Zürich, Switzerland  09:00 am
Nov 7, Ho Chi Minh City, Vietnam, 09:00 am
Nov 12, Seoul, South Korea, 09:00 am
Nov 14, Bangkok, Thailand, 09:00 am
Nov 19, Phnom Penh, Cambodia, 1:30 pm
Nov 21, Kuala Lumpur, Malaysia, 09:00 am
Jan 14, Cannes, France, 09:30 am
All times are local times
These workshops are dedicated to SMEs and corporations with an interest in taking their innovation engagement to the next level.  The programs give rare insights in the inner workings of the most innovative businesses, and how they compete with any size competitor. Attendees learn that engineering, inventions and patents are the smallest part of the global innovation competition.
The question we are answering:  How do you innovate and disrupt?
Company Workshops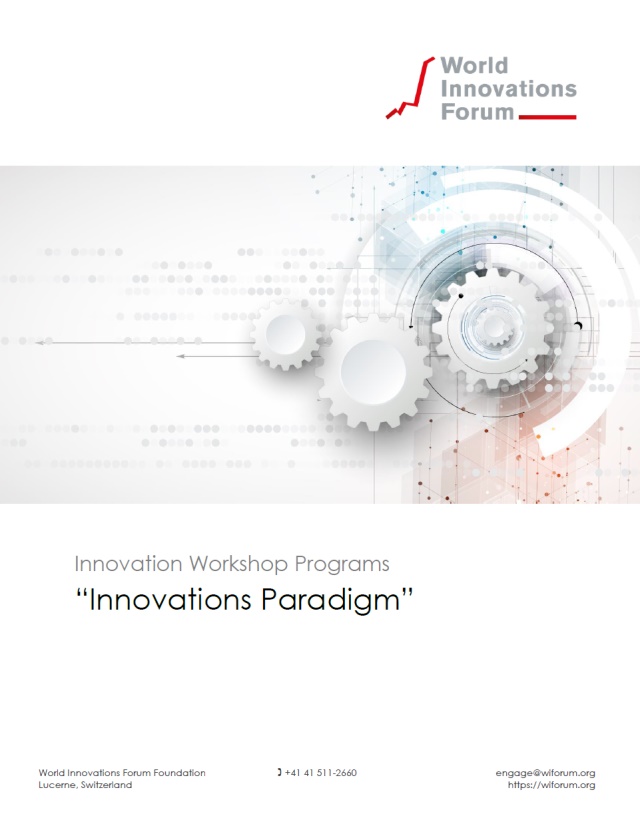 Innovation paradigm Workshop
Innovations have been identified as the most
critical contributor to a country's prosperity.
Unlike natural resources, which are not
available for ever and tourism which is
depending on trends, Innovations are
abundant, until we have a perfect universe.
Topics:
Understanding the complete innovation lifecycle
Developing a long term innovation strategy
Guidance and methods for innovative thinking
Taking it from innovation to disruption
Innovation realization
Innovation to market methods
Ability to develop an innovation value
Forming an innovative corporate ecosystem
Audience: Innovation Management, R&D executives
Format: Workshop
Duration: 5 days
Fees: Starts at $10,000/day + travel and accommodation
Enterprise Innovation Strategy
An innovative model to find ways out of the enterprise innovation oxymoron: keeping tens of thousands on a much needed utilization rate and being innovative at the same time.  Leveraging the "Innovative Thinking Model" to identify innovative ways for global enterprises to innovate beyond today's imaginable possibilities. This workshop is designed for a collaborative engagement with C-Level and Board Member.
Topics:
Introduction to the Innovation Paradigm
Developing a long term innovation strategy
Innovative Thinking on the top level
Creating an innovative way to innovate across an enterprise
Audience: Top executives  (C-Level + Board)
Format: Workshop
Duration: 1 day
Fees: Starts at $15,000/day + travel and accommodation
Workshop Request
If you are interested, please let us know and we are more than happy to discuss details: