1970's millions of donations have been wasted because there was no control and no intelligent management for large amount of support. That has changed dramatically for good.
2000's radical management, strong control and very detailed project plans dramatically reduced the waste of money and far more money is going to the ones in need. However, the overly "planned" projects and all its good intention, seam to end up like the "plan economy" in communistic nations. So Nigeria has a very prosper capital but growing poverty in the outskirts. The project plans are almost impossible to make from a drawing board.
2020's it appears that we all need to work much more closely together. The competition for funds overshadows the common sense for what is good for the people and countries we signed up to help. NGOs and other support organizations need to shift gear in the interest of their vision, the vision of their founders, their beneficiaries – and even in the interest of their donors (unless there are commercially or politically biased objectives.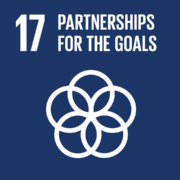 Unlike in the industry, where companies with great partner programs can rule the world. Too many NGOs are unable to collaborate and compete on capabilities and capacity with impact. Why is that?
Donors are looking for maximum efficiency, lowest possible operating cost and accept that cheap labor with less experience is better than smart people with innovative ideas – at least that is what NGOs still believe. Instead of following the herd – NGOs need to innovative themselves.
More entrepreneurship, more innovation, more creativity, far better educated people, and an industry style work ethic – not for profit – but for results. Active NGOs need to stop working for giver NGOs but for their "clients". Entrepreneurs are rules breaker. And entrepreneurial spirit in NGOs is badly needed in the interest of those, who they are trying to help.
In the spirit of the SDG #17.
Join the conversation
We are inviting you to explore innovative solutions
If you feel attracted by what we are doing and you and your foundation seems to work in a similar direction, please join us. There is no random noise or chatter. We are not a club or have any partnership contracts, we don't have a leader or other ruling entity. It is our interest to make an impact and that requires only acting – no overhead.
Send us a message if this is of interest to you. We want to keep it initially a small, agile and fast decision making group that can act on our joint vision without any administrative overhead.
Inaugural conference call
July 22  |  10:00 am CEST

AUDIENCE
Foundations and independent economic development organizations.
PARTNERSHIP VISION
– Innovation and entrepreneurial momentum with partners
– Business model alignment options
– Partnership models
– Global Partners for Impact
– Feedback and discussion
Please contact us if you are interested to join.